THREE 'CANARY CONDITIONS' – 'CHRONIC, COMPLEX, ENVIRONMENTALLY LINKED CONDITIONS'
Before sophisticated instruments, miners used to take canaries into coal mines. If the birds got sick or died, they knew that gases humans could not detect at first would eventually harm them. This is why ES/MCS, ME/CFS and FM have often been called 'canary conditions' – those who have them display symptoms connected to 'everyday' chemicals and electromagnetic frequencies in the environment much the way canaries used to react to toxic gases in mines – faster and more visibly than most.
On this website, when we want to talk about these conditions together, in addition to 'the canary conditions,' we have also used the acronym CELCs – complex environmentally linked conditions, for that is what they are.
Research on these conditions and their links to many frequently overlapping (co-morbid) conditions is still in its infancy. As it develops, better definitions will become possible.
At present, however, the American Academy of Environmental Medicine provides the following definition of a broad category of illnesses that comprises, along with others, the three conditions and their co-morbidities which the proposed OCEEH will focus on at first.
"ENVIRONMENTALLY TRIGGERED ILLNESSES (ETI) are the adverse consequences that result when the homeodynamic interactions among biological functions are compromised by external or internal stressors. These stressors may range from severe acute exposure to a single stressor, to cumulative relatively low-grade exposures, to many stressors over time. The resultant dysfunction is dependent on the patient's genetic makeup, his nutrition and health in general, the stressors, the degree of exposure to them, and the effects of seven fundamental biological governing principles: biochemical individuality, individual susceptibility, the total load, the level of adaptation, the bipolarity of responses, the spreading phenomenon, and the switch phenomenon."
A SNAPSHOT OF THE CELCs IN ONTARIO 2010: BIG NUMBERS, ON THE RISE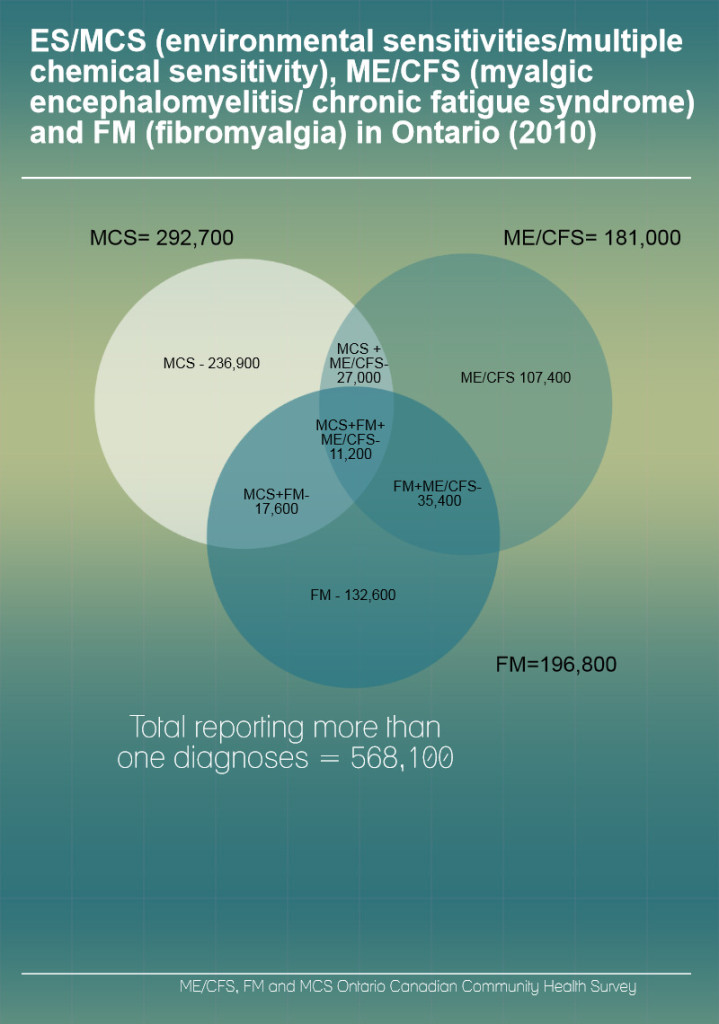 CONDITIONS OF COMPARABLE SEVERITY AND PREVALENCE